USA Mobile Oil Change Vision
Changing your own vehicle engine oil and filter is probably well within your abilities. Plan to spend $25 to $35 for 5 quarts of engine oil of the right grade (depending on manufacturer specifications), and $10 to $15 for a new oil filter of the right type for your vehicle. Do not forget you need to have right tools: a funnel, drain pan, socket wrench of the right size to loosen the drain plug bolt, jack, tire/wheel chock and more… and place to dump used engine oil and filter to keep our World environmentally clean and safe
Most mechanics do not charge a whole lot more to change your vehicle oil and filter than you would pay yourself for the supplies. You can expect to pay anywhere from $40 to $70 for the new oil, filter, and the mechanic's time. Costs vary based on your vehicle's size because a bigger engine means more oil.
The cost of having someone change your vehicle oil is not the biggest reason to do the job yourself. Time saved traveling to and from the auto shop and the inconvenience avoided are the reasons to never go to the shop, something that USA Mobile Oil Change can complete for you in a matter of 30-45 minutes at your own convenience and desired location.
USA Mobile Oil Change is a mobile oil changing company․ We are looking for the opportunity to partner up with individuals and businesses to save time and money for our customers. Time is precious and our daily to-do lists are long. So instead of you wasting your precious time and waiting in line to change your vehicle's oil, we will come to you. We will perform mobile oil changing services at your convenience. Whether you are at your work, home, gym, we will come to you! Just give us a call and we will schedule a time and date that will suit you!
Our Environmentally Clean and Safe (EC&S) Mobile Oil Change system is incorporating modern technology, which vacuums out used and greasy oil into a secure and high-grade aluminum tank or using a traditional drip pan. This advanced technology with Fluid Evacuator uses compressed air techniques to meet Safety and Security      standards with Federal and State E.P.A. regulations.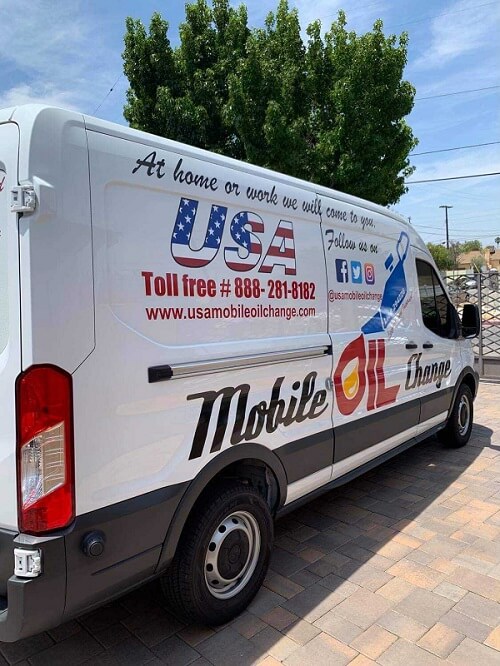 Please click "schedule an appointment"or call our toll-free number 888-281-8182 and one of our USA Mobile Oil Change team members will contact you about setting up your oil change at the location of YOUR choice.